Energy Materials Division Statement
Both electricity and hydrogen, the most environmentally friendly secondary energy sources or energy carriers, must be generated from primary sources. The primary energy sources in large supply today are petroleum and natural gas in the short term, coal and nuclear fission in the near term, and nuclear fusion in the long term. Renewable sources such as solar photovoltaic and wind power will also play an increasing role.
In the near term, improvements in transmission and distribution systems from local generation sources will be needed. In the long term, in view of the nature of the primary sources, future electrical generation will be large scale, located in remote areas requiring transmission to end-users.
Transmission is also of vital importance to distributed energy generation. HTS power transmission and distribution cables that carry current without energy losses are expected to increase the efficiency and capacity of the transmission system, relieving grid congestion, improving electric power quality and upgrading power networks. The increased capacity will also help improve the stability of the grid system. HTS cable, carrying three to nine times more power than conventional cable, can meet increased power demands for urban areas and can substitute for overhead lines where there are environmental, security and/or aesthetic concerns.
Thermoelectrics
Batteries
Catalysts for hydrogen generation
Nanomaterials for oil recovery
High thermal conductivity materials
Theoretical understanding of energy materials
Simulation of energy materials
Prediction of energy materials
Ion Beam Research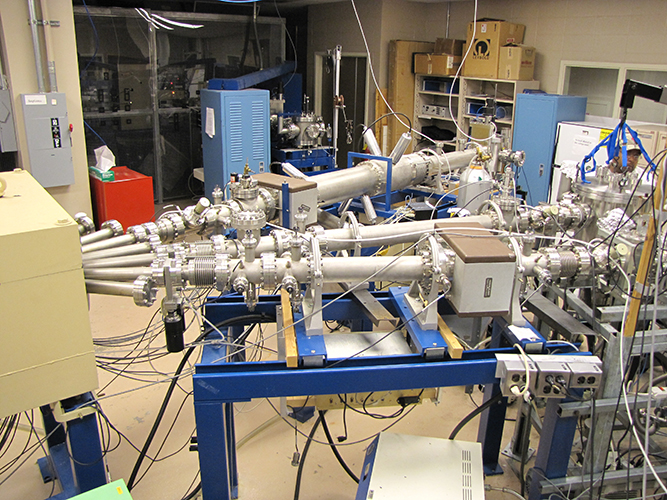 Development of new kinds of nuclear materials for next generation fission and fusion reactors, solving the challenges and issues in future nuclear energy applications. Radiation damage studies on advanced radiation tolerant materials under extreme conditions to improve the performance of cladding, structural, and uranium related fuel materials.
Dr. Wei-Kan Chu is an expert in the field of Ion Beam interaction with Solid. Chu and his team studied the interaction between High Temperature Superconductor and magnet, which resulted in a set of inventions including levitation bearings, non-contact clutch, linear transfer table, and vibration isolation. His recent research activities have ventured into radiation damage in polymers, Ion Beam applications in nano structures for bio-applications.
Core Superconducting Programs
HIGH TEMPERATURE SUPERCONDUCTING WIRE FOR ELECTRIC CABLES
Information will be available soon.
FAULT CURRENT LIMITERS FOR TRANSMISSION AND DISTRIBUTION HIGH-VOLTAGE CABLES
Information will be available soon.
HIGH-FIELD, LOW AC LOSS HTS COILS
Information will be available soon.
INDUSTRY AND OTHER COLLABORATORS IN ENERGY APPLICATIONS
Information will be available soon.
SOLID OXIDE FUEL CELLS AND ION TRANSPORT MEMBRANES
Information will be available soon.
HIGH FIGURE OF MERIT THERMOELECTRICS
Information will be available soon.
HIGH EFFICIENCY, FLEXIBLE PHOTOVOLTAICS
Information will be available soon.
Recent Research Highlights
Congratulations to Prof. Selva for Spinoff Ramp-Up
AMPing Up Delivery of Superconducting Wires [...]
Read the original news release or view more TcSUH In The News here.