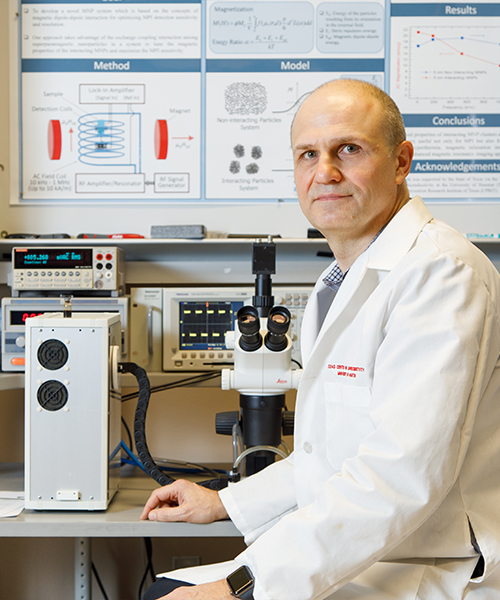 Bi-Weekly Seminar
Bringing Together the Academic, Clinical and Enterprise Elements to Solve Challenges in Cancer Care Through the Application of Nanotechnology and Magnetic Sensing
Affiliation: Texas Center for Superconductivity, University of Houston
Date: Thursday May 30, 2019
Time: 12:00 pm – 1:00 pm
Location: Houston Science Center – Building 593 — Room 102
Overview
Bringing Together the Academic, Clinical and Enterprise Elements to Solve Challenges in Cancer Care Through the Application of Nanotechnology and Magnetic Sensing
Biography
Dr. Brazdeikis received his Ph.D. from the Royal Institute of Technology (Sweden) and is currently a Research Associate Professor of Physics at the University of Houston and an Adjunct Associate Professor at UT-Health Science Center-Houston. He is a principal investigator of the HTS Biomagnetic Imaging laboratory at the Texas Center for Superconductivity (TcSUH).

He is the author of more than 40 articles in leading scientific journals. His current research activities are focused almost entirely on developing new biomedical applications of advanced magnetic sensors based on SQUID technologies.

He has over five years experience as an independent technology consultant and application developer for Baylor College of Medicine, UT-Health Science Center-Houston, and Texas Heart Institute. He recently co-founded a medical device start-up company, Endomagnetics Inc., to solve a range of important surgical and cancer diagnostic problems through the application of novel advances in biomagnetics, nanotechnology and magnetic sensing technology based on superconductors.
Download: Event PDF
Back to TcSUH News & Events